Match the computer's tile patterns in this board-style puzzle game by flipping over the tiles surrounding your cursor in the correct order.
While starting out very easy and simple, the 50 levels quickly become increasingly challenging and will require quite a bit of forethought, experimenting and skill to be solved. Each level can be selected and played independently from the previous ones, also giving you the chance to test your skills on more difficult levels early on.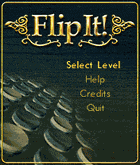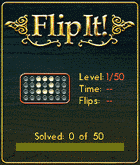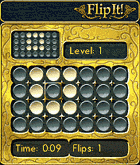 FlipIt! is an exiting board-style puzzle game that will keep you entertained for hours. Available for a large number of cellphones, everyone has the chance now to give in to their puzzle passion.
Whether you want to play the levels sequentially increasing the difficulty one step at a time, or whether you want to jump right into the most difficult and challenging levels, the game will always make sure you will have quite a nut to bust.


Features
50 levels of game play
Increasing level of difficulty
Automatic game save
Each level accessible at any time
Highly addictive gameplay!

If your cellphone carrier is not offering FlipIt!, please make sure to give them a call and ask them to add it to their catalog. We are constantly working with carriers, so please also make sure to check back at a later date to see if your carrier has been added to the list of availabilities.
if you own a J2ME phone, you can also obtain the game through Handango without having to go through your carrier.